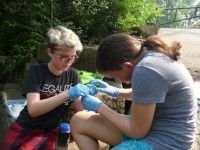 T.R.U.E Blue, (Teaching Rivers in an Urban Environment) is a watershed literacy, water quality monitoring curriculum targeting students in 5th grades and up.
TRUE Blue is a four-­day, four lesson curricula taught by Blue River Watershed Association staff, which are state certified teachers or have advanced science degrees. This Science, Technology, Education, and Mathematics (S.T.E.M) curriculum has been used by BRWA for twenty years and impacts on average 10,000 plus students and educators a year. The TRUE Blue project trains and equips area teachers, students, and community members to establish school-based learning teams that monitor water quality throughout Kansas City watersheds. Students and their teachers are trained in the classroom to perform ten chemical tests, using proper safety and procedural protocols.
First Lesson - Asking the right question: An introduction to watersheds, stormwater runoff, physical and chemical pollution, and the detrimental effects of pollution to streams, rivers, and eventually the oceans.
Second Lesson - Preparing for field work: BRWA Educators conduct in-­class training as students learn proper safety and testing protocols on professional Surface Water Quality HACH chemical test kits.
Third Lesson - Field Work at local stream: Students go to a nearby stream or river and using the HACH kits, conduct ten chemical and non-chemical water quality tests. If needed, BRWA will provide volunteers to help the students in this process. Students observe first-­hand the adverse effects of pollution. For many students, this may be the first trip to a river.
Fourth Lesson - Analyzing Student Data - Using data collected from water tests, students use charts, graphs and calculators to determine the final Water Quality Index score for the river in which they tested. Discussion and conclusions are drawn from the results. What are the causes of the chemical pollutants? What remedies could be put into place? TRUE Blue gives students real-­hand experience with Science, Technology, Education, and Mathematics (S.T.E.M)
The Association provides a combination of staff, community members, and state and municipal professionals who serve as mentors to small groups of students stream-side. Mentors are critical to the success of this program. To mentor please volunteer at www.brwa.net/volunteer.
Blue River Watershed Association coordinates stream monitoring efforts by various groups and provides professional equipment, qualified staff, and community partners to facilitate field study. Click on "Schedule a Program" in the left-hand navigation menu if you are wanting this program at your school. 
---
TRUE BLUE in Action at Brush Creek
Learn more about Teaching Rivers in an Urban Environment (TRUE BLUE) with Executive Director Lynn Youngblood and students at Brush Creek.