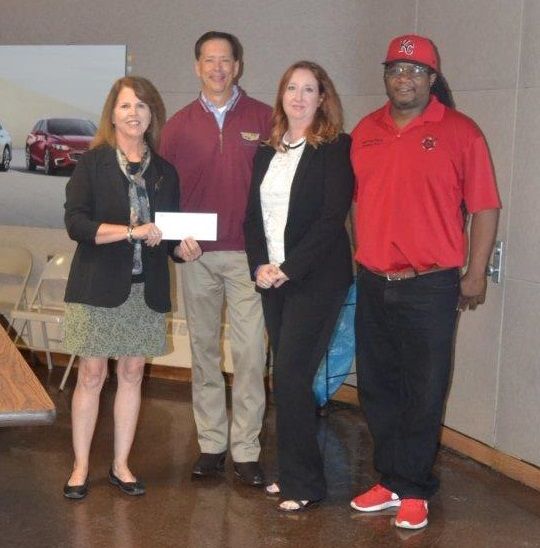 GM FAIRFAX ASSEMBLY & STAMPING PRESENTS $100K TO SIX KC NONPROFIT ORGANIZATIONS
GM Corporate Giving Funds Community Impact Grants
Sept. 12, 2018 – Kansas City, Kan. Today, General Motors Fairfax Assembly & Stamping presented six Kansas City-based nonprofit organizations with $100,000 in Community Impact Grants funded by GM Corporate Giving.
Bill Kulhanek, Plant Executive Director, and Dwayne Hawkins, UAW Local 31 Shop Chair, welcomed nonprofit leaders and government officials to the breakfast event, followed by Kansas City, Kansas Mayor David Alvey. Mayor Alvey thanked General Motors for being a great corporate citizen, for its financial commitment to the local community and for the many volunteer hours contributed by the plant's employees.
The GM Community Impact Grants Program facilitates a social impact strategy for GM plant communities that shows GM is a corporate citizen leader to their employees and in their local community.
Kansas City Community Impact Grant recipients are:
Blue River Watershed Association - $10,000
Harvesters - $10,000
KC STEM Alliance - $10,000
Social Impact Technology & Engineering - $10,000
United Way of Wyandotte County - $50,000
Veterans Community Project - $10,000
The social media hashtag is #GMFairfax.
ABOUT GENERAL MOTORS
General Motors Co. (NYSE:GM) has leadership positions in the world's largest and fastest-growing automotive markets. GM, its subsidiaries and joint venture entities sell vehicles under the Chevrolet, Cadillac, Baojun, Buick, GMC, Holden, Jiefang and Wuling brands. More information on the company and its subsidiaries, including OnStar, a global leader in vehicle safety, security and information services, can be found at http://www.gm.com.
# # #
Mary Padilla
913-954-2055
mary.padilla@gm.com