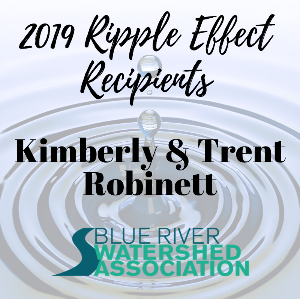 (Kansas City, Mo.) – TREK's Founders, Kimberly and Trent Robinett, was selected as the 2019 Blue River Watershed Association (BRWA) Ripple Effect Award recipient. They will receive their award at the November 1, 2019 BRWA Water Ball event.
The Ripple Effect Award was established in 2016 to recognize an individual or organization at Blue River Watershed Association's annual Water Ball event that has embodied the Association's mission to restore and protect watersheds through environmental education, community outreach, partnerships, and collaboration through dedicated efforts that have caused a ripple effect of positive change throughout the Kansas City Metropolitan Area.
Recipients of the Ripple Effect Award receive a royal blue water drop award that is layered and surrounded by crystal clear glass symbolizing significant recognition and sacrifice in restoring watersheds. Each award is individually hand crafted, with no two awards identical in size, weight, shape or color, just like the award recipients who will receive this award each year.
TREKK Design Group is led by Kimberly Robinett, Managing Partner. IMPROVING LIVES is Kim's personal vision and mantra.  She has instilled into TREKKs culture her own personal belief of bringing out the best in others and trying to make their lives better. Her inclusive and collaborative style of leadership fosters a work environment of caring and equality where all voices are heard and considered.
The TREKK culture was built around passionate, trustworthy difference makers. Their relaxed, flexible environment brings smart people together to make a difference in the world around us. TREKK likes being different and their entrepreneurial culture empowers the company to engineer holistic, common sense solutions that support the growth and restoration of the communities they serve. Innovation, creativity and free thinking are encouraged to deliver quality solutions that match their clients' needs.  TREKK derive success and fulfillment from the impact their work has in the communities their employees call home and the people they serve.
TREKK offers a full complement of engineering design and consulting services, as well as technology offerings that help clients work smarter. TREKK has 141 employees in eight offices across the heart of America, solving problems all over the country.
Join BRWA on November 1, 2019 to congratulate Kimberly and Trent Robinett at the V.I.P reception and program at the annual Water Ball at the Uptown Theater. To get tickets or a table visit www.brwa.net/waterball.html.
For more information, please contact Dr. Mike Strohschein, Director of Development and Communications, at strohschein@brwa.net
###
The Blue River Watershed Association (BRWA) was initiated by a 7th grade science teacher in Kansas City, Kansas in 1996 and began the T.R.U.E. Blue Project (Teaching Rivers in an Urban Environment: The Blue River Watershed Project). In 1997 BRWA was incorporated as a 501(c)3  non-profit with a mission to restore and protect watersheds through environmental education, community outreach, partnerships, and collaboration.
Visit Blue River Watershed Association online at www.brwa.net.
Follow Blue River Watershed Association on Social media 
To learn more about BRWA Water Ball 2018 visit www.brwa.net/waterball.html