RIPPLE EFFECT AWARD
---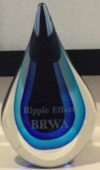 The Ripple Effect Award was established in 2016 to recognize an individual or organization at the annual fundraiser that has embodied the Blue River Watershed Association mission to restore and protect watersheds through environmental education, community outreach, partnerships, and collaboration through dedicated efforts that have caused a ripple effect of positive change throughout the Kansas City Metropolitan Area.
Recipients of the Ripple Effect Award receive a royal blue water drop award that is layered and surrounded by crystal clear glass symbolizing significant recognition and sacrifice in restoring watersheds. Each award is individually hand crafted, with no two awards identical in size, weight, shape or color, just like the award recipients who will receive this award each year.
---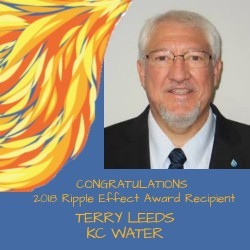 Kansas City Water Services Director, Terry Leeds, was selected as the 2018 Blue River Watershed Association (BRWA) Ripple Effect Award recipient. He will receive his award at the BRWA annual Water Ball event on November 2, 2018.
Leeds brings 29 years of experience in the water industry.  He began working for Kansas City Water Services in December 1995, and during his tenure he worked in the Facilities Engineering Division, the Stormwater Engineering Division, and the Capital Improvements Management Office.  In July 2005, Leeds became the Manager of Kansas City's Overflow Control Program, a large and complicated 25-year, $4.5 billion federally-mandated project.  He served as the Acting Director of Kansas City Water Services from August 2010 until he was named Director in January 2012. For full press release visit News or click here.
Join us on November 2, 2018 to congratulate Mr. Leeds at the V.I.P reception and program at the annual Water Ball. To get tickets or a table visit www.brwa.net/waterball.
---
Ripple Effect Award Recipients
| | |
| --- | --- |
| Terry Leeds | 2018 |
| Cargill | 2017 |
| Joan Leavens | 2016 |
| Jim Benz | 2016 |
| | |
2018 Award Recipient

2017 Award Recipient

2016 Award Recipients