Mission
The Blue River Watershed Association's mission is to restore and protect watersheds through environmental education, community outreach, partnerships, and collaboration.
Our Work
Under the direction of a strategic plan, BRWA focuses its work in Community Education and Outreach; Environmental Stewardship; and Strategic Partnerships areas:
Community Education and Outreach               

Student Programs - The Association works with school districts in both Kansas and Missouri to teach young people about the importance of good water quality to health, recreation and the quality of life in our watershed.  Blue River Watershed Association's curriculum is aligned with both Kansas and Missouri state education standards. BRWA is the only environmental organization who has an education staff that is made up of all state certified teachers. 
Community Programs –- BRWA's community programs inform citizens, neighborhood associations, cities, counties and local businesses about ways that all citizens can contribute to healthy rivers and streams.

Environmental Stewardship

Blue River Watershed Association encourages the community to take care of its watersheds by sponsoring clean-up events and by facilitating projects that demonstrate "green" restoration techniques such as Rain Gardens and Rain Barrels.  The Association partners with others in the community to encourage restoration, stream bank stabilization, and riparian corridor management along the Blue River and its tributaries.

Strategic Partnerships

Creeks, streams, and rivers do not stop at political boundaries –- they cross city, county and state lines. BRWA's mission relies upon building a regional approach to watershed management. The Association works to build effective, strategic partnerships with citizens, cities, counties, and businesses across the Metro Area. The Blue River Watershed Association believes in the power of partnerships to achieve goals for a healthier watersheds.
---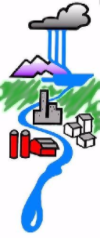 History
The Blue River Watershed Association (BRWA) was initiated by Jim Benz, 7th grade science teacher in the Turner School District, Kansas City, Kansas, when he received a Christa McAuliffe grant in 1996 and began the T.R.U.E. Blue Project (Teaching Rivers in an Urban Environment: The Blue River Watershed Project). In 1997 BRWA was incorporated as a 501(c)3 with a mission  to improve the quality of the Blue River watershed and nearby streams through experience-based education and community partnerships.
In 2000, Joan Leavens (2000-2005) was hired as the organizations first employee and Education Director. KC Clean Stream launched a year later in 2001 with 1700 participants and more than 5600 in the first three years.
---